Advertorial
Shop online easily with EZ Buy
By
|
Hey sisters in shopping!
Sorry that I've been MIA for a while, was caught up with setting up the new office and managing a brand new team for my other venture (share more deets on that soon!) and boy, time really does fly when you're busy eh?
Today I want to share with you a great shopping deal that will help you get the best offers ever! See, I was shifting to a bigger office and we needed many new furniture. Aside from hopping to the nearest IKEA, I wanted some designs that they did not have and they were too expensive to source locally. So what I did was I turned to ezbuy
Like always, I do tons of research before trying out any new online shopping site and I've heard so much about ezbuy. They were previously known as 65Daigou, one of the top Taobao agents for Malaysia and Singapore and I've seen so many bloggers redecorate their home with items via ezbuy. Now, we all know shipping fee is largely due to weight and can you image the shipping fee for furniture? *gasp*
But.. but.. that's where ezbuy is really awesome at this. They have a Prime Shipping feature where it's RM8.80nett, regardless of weight. Crazy, right? But it's true because I tried it out myself and bought:
9 of these Eames chairs: 6 in white and 3 in black
They were going for RM64.71 each as opposed to RM300+ I've been seeing at local furniture stores. Obviously I added to my cart without hesitation. Tee-hee
I also bought 7 of these bins, because they're so pretty!
So what's the verdict?
To be honest, after placing the order, I was quite worried about the quality and also the wait (it takes about a month to arrive). But once they were delivered, I was very pleased with the quality
All products were nicely packed and delivered straight to my office on the 3rd floor (no lifts, mind you) and were in great condition. There were some assembling for the chairs (very IKEA-DIY style) and that was it. Super pleased with my orders that I shared about it with all my friends and soon made my second prime order
You too, can do the same! Here's how:
1. First, go visit www.ezbuy.my and sign up for a Prime Account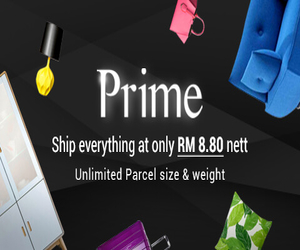 2. Shop for Prime eligible goods and add them to your cart

3. Check out, make the necessary payment and wait for your orders to arrive. It's that simple!
P.S. Prime shipping subscription is valid for an entire month so you can shop as many times as you want
BONUS
That's not all! There's something extra for all you sisters in shopping:
Enjoy 15% off shipping fee with code ezfriend15
Register now and get RM15 Voucher for your EZ Buy account
Register for Prime Trial. Limited to daily 1st 100 register user only – https://goo.gl/7eXgQs
Shop till you drop sisters in shopping!
P.S. Never too early to be buying Christmas presents, no? *winks*
This post has been brought to you by EZ Buy, but all thoughts, opinions and purchases are my own